ZTE terminal drastic restructuring, to force Internet phone, cool running program three tricks in the first two axes are on the industry caused no small shock, ZTE secret first 50,000 units less than one minute to grab finished, the number of Red Bull V5 also make an appointment very hot. Cool running program last round of the stars on the 1st, after packaging has been exposed, recently another new Madden content appears.
First make sure the stars on the 1st and the resurgence of the preceding two new, as is support for 4G network products, as "4G cool running program," the finale of the product, the machine can achieve 13 5 mode frequency support, that TD-LTE/FDD- LTE / WCDMA / TD-SCDMA and GSM bands 13 and the corresponding. This also means that the stars on the 1st may use Qualcomm platform is unclear what would be only a temporary solution.
Another point is to hear about the machine's screen information, ZTE insiders were recently revealed side, ZTE stars in the 1st screen size no larger than 6 inches, 5 inches is the most likely, will use the 1080P HD resolution, became Grand after GEEK U988S S series and a handful of ZTE products 1080P products.
In addition to the above, ZTE insiders Peng Mango also stars in the 1st suspected exposure of the real machine photos, indeed, as previously speculated like that, the top of the machine is the same as Memo II circular surface treatment, also provides girls like pink version. The point is, the aircraft main camera with a dual LED fill light design, the color from the fill light to see, clearly is using a Japanese hot touted dual LED color temperature program, fill light effects worth the wait.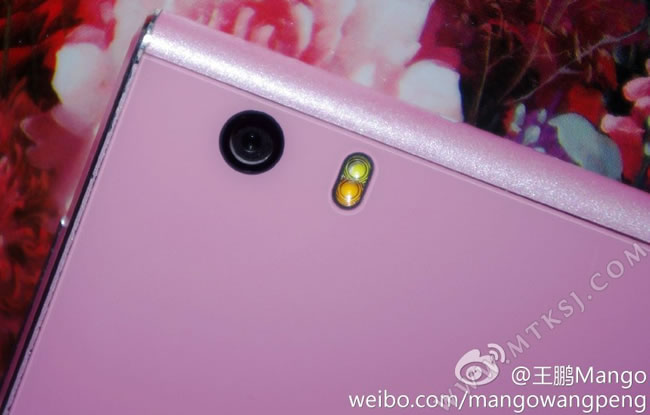 The first two are a reliable source, if the stars really preaching outside the 1st thousand dollars or less the same price, then the 5-mode 13 alone can be a lot stronger frequency thousand 4G products already listed a chip, in addition to beyond this cool running program surgeon who had Xuezhong frankly said, "there are a lot of stars on the 1st of the highlights," including all aspects of UI, features, body design, I believe the other side also leave some surprises.
1 Star in Korea will be released next Wednesday, with "stars" in the name and to the Korean release, may also introduce popular Korean-related elements, wait and see.