Bloody battle in the end! Redmi phone 4G/64 bit version is still MTK program
This past April 8 mobile phone industry has become a veritable carnival, XIAOMI, Huawei and other vendors selling this day fight fight fight sales pace, the other day, many manufacturers are focused product offering. According to official data XIAOMI display, XIAOMI rice Day, sold a total of 1.3 million mobile phones (including overseas), the total sales of 1.5 billion yuan broken! This amazing achievements, REDMI series products have great credit, this year's rice festival became the most talked about XIAOMI phones.
Participation in this year's festival offered REDMI rice products, including REDMI phone lines and REDMI NOTE, the total number reached 60 million units, it is precisely these products in advance of thousands of smart phones to detonate a price war, a testament XIAOMI before the end of the bright red LEI words - "2014 XIAOMI bloody battle in the end", REDMI phone to act as a vanguard role. Remove already listed REDMI 1/1S and REDMI NOTE, also came REDMI subsequent product information, REDMI follow will have 4G with 64 new machines to market.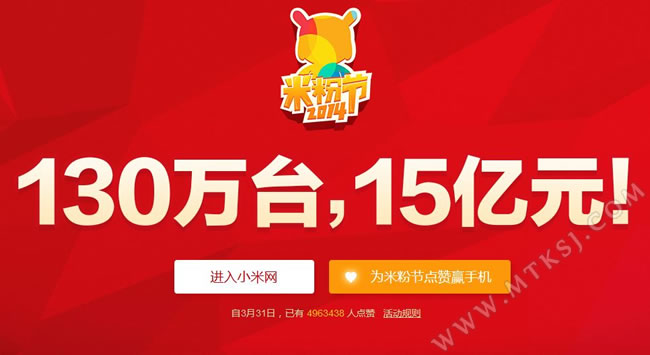 Domestic 4G curtain has been opened , REDMI launch LTE version of the phone has no objection , but the surprise is that the news that REDMI Mobile 4G will use MTK MT6595 solution. MT6595 is MediaTek 's first LTE phone solution can support TD / FDD-LTE 4G network , compatible with TD / WCDMA and GSM, support 2K screens and 2K4K video playback , is MediaTek to enter the 4G market tool , is also the world's first eight core LTE phone chips , the overall size of a strong showing ever MTK products , targeting the flagship machine . Here there is a contradiction , REDMI is XIAOMI flagship thousands market products, and MT6595 is MediaTek true meaning of high-end chip , if REDMI version of 4G really want to carry MT6595 words , 4G market is a bloody battle , MediaTek will not allow such happens also difficult to determine.
Upcoming 64-bit era , REDMI phones also have the relevant product market, mass 64 edition REDMI phone still choose MTK platform, will use MediaTek released in 2014 MWC Conference MT6732 64位LTE SOC, and is striving to starting MT6732 let REDMI Mobile version into the lead 64 eat MTK 64 -bit processor products. MT6732 using the ARM Cortex-A53 architecture , graphics processor Mali-T760, support for LTE networks, multimedia features prominent.
Version of the phone will advance to 4G REDMI may be released in June-July, 64 edition REDMI phone or September release, should the news come true, means XIAOMI REDMI MTK camp system became the backbone of the product thoroughly, whether LTE or 64, REDMI locate the phone determines its final product is still facing thousands market, the domestic mobile phone market in 2014 due to REDMI phones and more "exciting."