1399 yuan /1499 Yuan Jia domain G6 and S2 released
Jiayu mobile phone will have a series of 8 nuclear product plans, which are the most talked about two products, respectively is the best domain S2 and the big screen eight nuclear Jiayu G6 thin to 6 mm, like the two mobile phone users had to wait until this day, good domain recently officially released this mobile phone the two new products.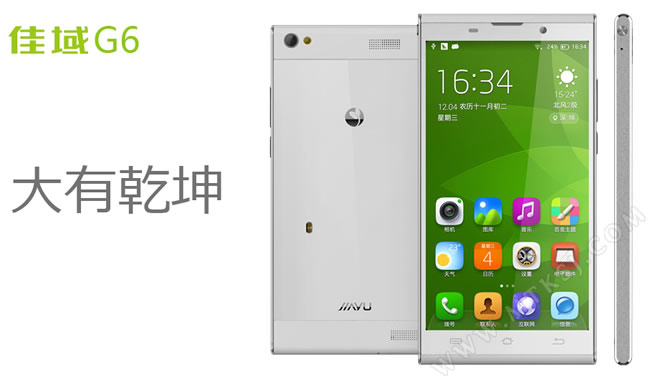 Jiayu G6 appearance of big become different
G6 first appeared in last year's net friend meet, prototype show show good domain G6 adopts the design of three segments, the corner is rounded, now released G6 apparently has enabled a new mold. Data shows, good field G6 measurements only 156*79*8 mm, boasts large screen accounted for Samsung NOTE3 size is 151.2*79.1*8.3mm, and the cool 9080W reached 155.8 *81.5*8.3mm, although NOTE3 slightly longer than the plastic shell, in the same size product is a kind of be extremely exquisite figure.
Fig. effect has been released, the upper and lower ends are circular arc surfaces, or frame is very flat, style and MEMO similar to II, the extensive use of aluminum alloy material. Another major selling point is the back good domain G6 also will be equipped with Corelle gorilla glass, more beautiful and improve the protection ability.
Remove the integration of fashion appearance, the core configuration of this machine also has the juandian place, good domain G6 with 1.7GHz frequency rate of MT6592 eight processor, the screen is 5.7 inches, using OGS bonding technology and the 2 generation of gorilla glass, resolution of 1920*1080, the first 8000000 Sony module using pictures, post 13000000 pixel Panasonic camera, running Android 4.2 system. The function is complete, G6 can support OTG, NFC, wireless charging and double wheat noise reduction technology, support the gyroscope, HALL switch and other mainstream sensor, support WCDMA+GSM dual card dual standby, and double loudspeaker design, to provide better quality output.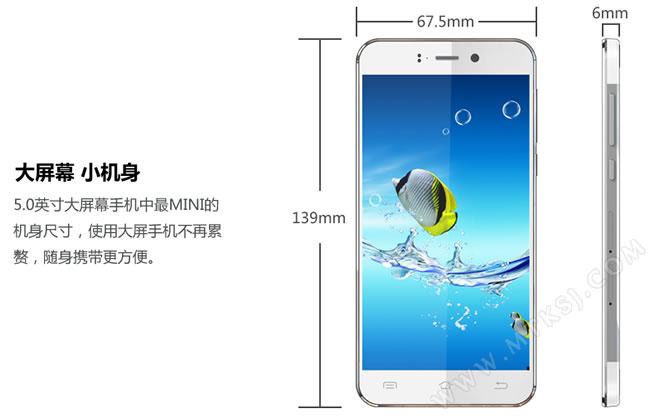 Single hand portable boutique Jiayu S2
Jiayu S2 appearance rate much higher than the G6, the mobile phone is a boutique products good domain this key recommendation, has the most compact 5 inch products in the measurements, the size of 139*67.5*6mm, has 1.7mm unilateral border width, it is S2 although small, but still support W+G dual card dual standby. In addition to S2 and G6 is an integrated design, frame and frame adopts the stainless steel material to create a lot of.
The specification of S2 early release, the machine with the G6 using the same MT6592 MediaTek's new eight nuclear, frequency is 1.7GHz, the fitting screen 5 inch with 1080P resolution, a Corelle two generation gorilla glass equipment. Camera specifications consistent with G6, and 8000000 +1300 million pixels, has 2000 MAH battery, Android 4.2 system. Jiayu S2 has comprehensive sensor mounting, support OTG function.
Price and time to market
JIAYU G6 and S2 provide the level with double version, with version is 2G RAM+32G ROM, but with low is 1G RAM+16G ROM of memory, other specification level with version. Jiayu S2 level with version of the price is 1399 yuan /1699 yuan, Jiayu G6 double version of the price is 1499 yuan /1799 yuan, S2 will be listed within this month, but the G6 needs to wait until April.
From the beginning of the first smart mobile phone G1, mobile phone products has been price good domain is dominant, in the recent listing of product, we see not only high price, jiayu will be better technology to the product, to quality transformation, so only the S2 and G6 turned out right now. No doubt, the two one large and one small new machine is a rare masterpiece products three or four wire manufacturers, prices are also down to earth, on behalf of the progress and attitude jiayu of mobile phone.